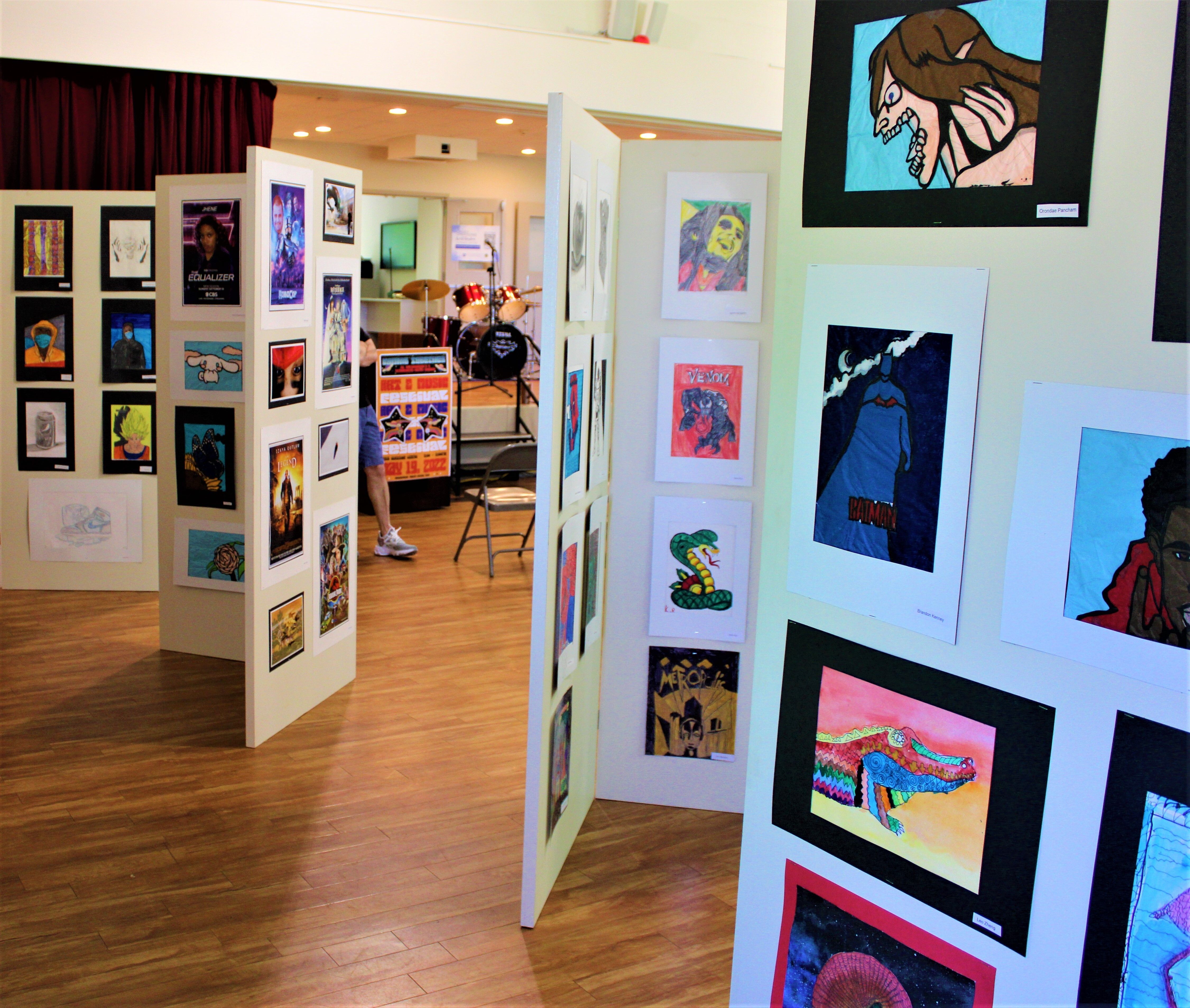 UPDATE: View Event Photo Gallery Here (Scroll Down)!
On May 18 and 19, 2022, St. Christopher's Jennie Clarkson Campus played host to the Greenburgh-North Castle (GNC) School District's 2022 Art & Music Festival, culminating with a fundraising event on May 19. The setting was The Opportunity Center, which had been thoroughly transformed into an art gallery and performance space by the District's art and music teachers, led by Richard Harrison. Oils, pastels and sculpture merged with DJ beat mixes, singer-songwriter and instrumental performances to create a fun and inspirational evening.
The event featured remarks by St. Christopher's CEO, Dr. Sarah Ruback, and GNC Superintendent of Schools, Dr. Carolyn McGuffog, in addition to NYS Senator Shelley Mayer, NYS Assemblyman Thomas Abinanti, and Westchester County Legislator MaryJane Shimsky. Other special guests  included two Westchester County Commissioners, Michael Orth (Community Mental Health) and Leonard Townes (Social Services). 
In addition to showcasing students' art and music, the event raised funds for St. Christopher's creation of a much needed, therapeutic residential program at the campus for children with autism spectrum disorder who are severely, cognitively impaired and many of whom are nonverbal. St. Christopher's is thankful to GNC and all attendees, donors and especially our sponsors for making this event possible. Our sponsors  included: Joe Randazzo and ProfTech; Alan Wilensky & USI Insurance Services; PharMerica; Dr. Frank & Maggie Belloni; Terry Prettyman Bowles; Patricia Krasnausky; H&E Cleaning Services; and David Wurf and Equitable Advisors.  
The evening's featured speaker was St. Christopher's and Dr. Kenneth Clark Academy (GNC) alumna, Amanda Ocasio, a Brooklyn-based artist. Her words moved all present and are excerpted here:
"Like any other student, I had my own reasons for being at St. Christopher's, some of which included: mental health battles with anxiety and depression; some trauma I had already gone through in my life; and what I felt at age 15 and 16 was an unsupportive, unstable atmosphere at home. Before I came here, I heard often within my family that I was a problem child. But at St. Christopher's and Clark Academy, I was no longer a problem for I thrived. More than a decade ago, I began at St Christopher's very much unsure of: myself and what I could bring forward; how I could connect with others; what my gifts and strengths were; and how to cope. But to this day, a lot of the foundation of how I move through the world goes back to what I absorbed here at St Christopher's through their clinical team and management, and most importantly, my teachers at Clark Academy. And the teacher that helped me believe in myself and pushed me to accomplish more than I could imagine by helping me to realize my gifts was my art teacher, Thomas Sampogna. Thanks to him, there was nothing I wasn't ready for in art and yet nothing I couldn't learn to do better.
"Through St. Christopher's, I attended many programs, including: summer visual arts courses at SUNY Purchase and FIT; Saturday morning college courses at Monroe College; a cosmetology and Emergency Medical Technician (EMT) training program; and sports broadcasting and video editing at the MSG Varsity Network.
"In 2011, I graduated from Clark Academy as Salutatorian with 18 college credits, and with the campus' first Advanced Regents diploma. I was accepted by all of the colleges to which I applied, including Pratt, Rhode Island School of Design, Savannah College of Art and Design, SUNY Purchase, Parsons and FIT. I initially attended FIT for advertising and marketing communications, but after high school, my life's course changed drastically. Through many unexpected twists and turns, I found myself, in my late teens and early twenties, on and off street, and homeless in downtown New York City. During these trying times, the enrichment opportunities I had at St. Christopher's and many skills I learned there—including independent living, and how to advocate for my mental health and obtain employment—helped me make it through and move on. 
"Fast-forwarding to the present, I have stable housing, am mother to three little girls, and work at their school as a parent coordinator. I do this work very enthusiastically since I love connecting families to their children's learning. I also have a small art business, Sona Arts, and am an active New York City artist, whose work is commissioned by community organizations and featured in art shows. 
"St. Christopher's gave me the essential foundation to become whom I am today. So I am proud to be an alumna and honored to be here to help you see how the work done at St. Christopher's connects youth to their ultimate potential."