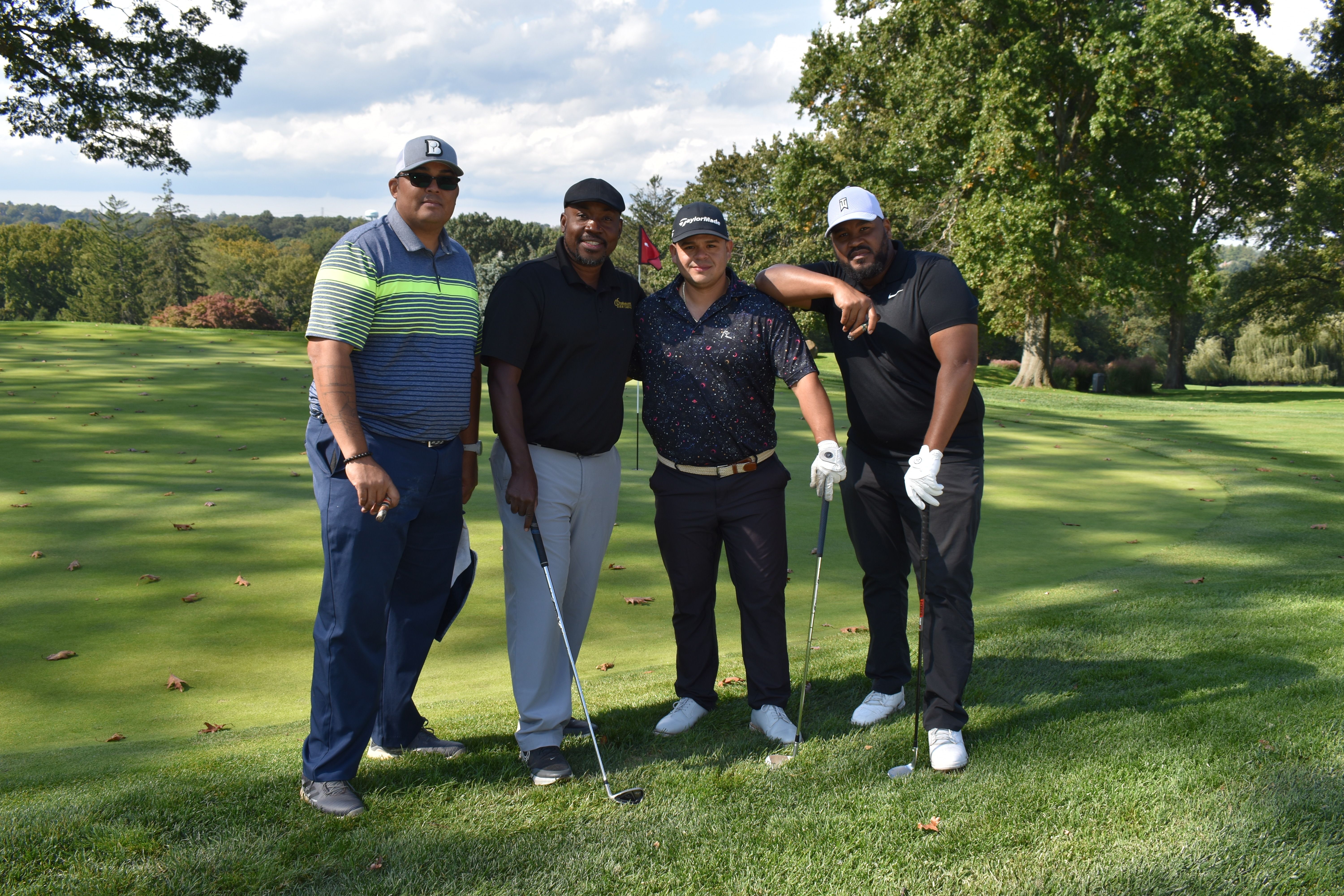 VIEW OUR EVENT PHOTO GALLERY HERE!
Despite recurrent rainy weather in recent weeks, October 10th turned out to be a beautiful day at Leewood Golf Club for St. Christopher's 2023 Golf Classic. Just ask the nearly 80 golfers on hand, who along with our guests, made this annual fundraiser a success. Pictured to the left is the foursome that placed first among 19 to win this year's Golf Classic—Willis Saintil, Isaiah Pietri, Joseph Tellez, and Luis Vegerano—all of whom are members of the Westchester Alphas, the storied, African-American college fraternity
The post-golf, cocktail reception—emceed by Board Member Larry Weiss, who as usual, made it fun, funny and memorable—featured remarks by St. Christopher's CEO, Dr. Sarah Ruback. Dr. Ruback updated guests on our newest human services program for unaccompanied youth, noting:
"The commonality—the through line—among them is that they desperately want a better life—one that allows them to reach their full potential. We help them achieve that by offering them a safe and welcoming, 'home away from home,' in addition to: classroom education; healthcare and mental health services; recreation and vocational training; family reunification and access to legal services; and beyond. And I'm thrilled to report the youth whom we've had the privilege of serving are a joy. They're kind and humble. They're eager to learn English and get an education. And they're ready to pursue their dreams—their American Dreams."
Dr. Ruback described the profound impact this program had had on her staff—and that the words of top-rated, Hispanic media personality, Cristina Saralegui—the "Cuban Oprah"—especially resonate. Following the Cuban Revolution, Cristina and her family fled Cuba for their safety, arriving in Florida in 1960. Reflecting on her "American Journey," she wrote:
"To realize the American Dream, you must understand that it belongs to everyone—to all of us—regardless of your background or where you came from. The American Dream is a human dream. And it is possible. You can rise as high in life as you are willing to work."
Dr. Ruback noted the participation in today's event of members of: the Dobbs Ferry Police Department, led by Police Chief Rick Guevara; the Westchester Alphas; and the St. Christopher's Board of Directors, including Board Chair Larry Carbone, Dr. Frank Belloni, Mark Leonard, Jeff Maron, and Larry Weiss. In addition, she thanked for their key roles in making the event a success: Mr. Weiss and Joe Randazzo of ProfTech, for donating amazing items to our live auction; Mike Polsky & Polsky Sports & Entertainment, for managing our silent auction; and our Golf Committee and Staff Volunteers.
In her remarks, Dr. Ruback expressed her deepest gratitude to all of our event participants and especially to our sponsors and donors, including:
Stayed tuned for future fundraising events, but meanwhile, please consider making a tax-deductible donation today to help us help children, youth and families in need at our DONATE page. Thank you for you caring.