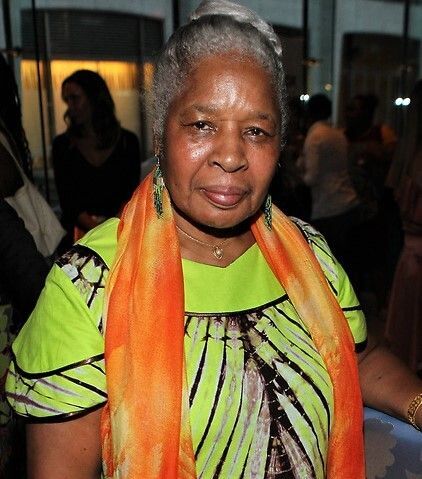 Even during Black History Month, the role of African American women as history makers is often overlooked. So on February 9 and 18, St. Christopher's did our part to correct that oversight in our corner of the world by sponsoring two Zoom panels themed to "Black HERstory Month in 4 Journeys." Broadcast across St. Christopher's campuses and the Greenburgh-North Castle School District, four outstanding women—including two, 1960s Civil Rights pioneers—shared their life stories, insights and aspirations for young women of color moving forward. 
Dr. A. Lenora Taitt-Magubane (pictured left) first began her Civil Rights journey while attending  Spellman College in Atlanta when she joined the Student Nonviolent Coordinating Committee. In 1960, along with dozens of other students and Dr. Martin Luther King, Jr., she was arrested at a lunch counter sit-in in Atlanta, after which she spent 15 days in jail. In December 1961, traveling by train from Atlanta, she became one of the 14 Albany, Georgia Freedom Riders. Their aim was to test recent court rulings barring segregation in interstate travel by sitting in the "whites only" car of the train. She was arrested and jailed for two weeks. She went on to earn her doctorate from Columbia University and had a distinguished career working with refugees in Zambia and South Africa, and in  child and family preventive services in New York.
Dr. Taitt-Magubane told students that Black History Month is "important, now more than ever, in large part due to the Black experience just over the past two years, including: disparities that emerged early on in testing, treating and preventing COVID-19 among people of color, as evidence of the overall barriers to quality healthcare in the African American community; the enactment of legislation across the country to prevent our community from exercising our right to vote; and, above all, the increase in the murder of Black Americans while in the custody of or pursuit by police, most notably the killing of George Floyd in May 2020. And that is why it is imperative for young women and men of color—and everyone, regardless of color—to redouble their efforts to build on the progress made by previous generations by advocating for racial justice and equality—not just in the U.S., but globally." 
Dr. Hazel Dukes, a Civil Rights champion for seven decades, attributes her success in the movement to her ability to link business, government, politics and social causes—and thus work within and outside the system. In the 1960s, she fought discrimination in housing and worked in the Head Start Program, which helps children and families living in poverty through early learning, health, nutrition, and family support services. She served as National President of the NAACP, and for nearly 25 years, has led its New York Conference. 

Dr. Dukes, who turns 90 on March 17, credits her late father, who was a Pullman train porter, with getting her involved in activism. "My father complained about the prejudice he faced, saying, 'We're not treated right. We should be equal with other people.' That shaped my outlook on skin color and so my journey as a civil rights activist began. I really love interacting with young people to see what their thinking is of the world we're living in right now and to tell them the story of what they have inherited as a legacy. I urge them to continue the fight of their elders for diversity, equality and inclusion."
Terri Bowles, a member of St. Christopher's Board of Directors, is a successful editor, writer, film producer and media/arts consultant. As cofounder of Daughters of Eve Media, she has highlighted the cinematic works and scholarly film contributions of women of color through screenings and panel discussions. She holds a bachelor's degree in Journalism from Howard University and a master's in Media Studies from The New School, where she serves on the faculty.

Ms. Bowles discussed her passion for the arts as a means of expressing our common humanity, connecting diverse people, inspiring wonder, and advancing social change. She shared her hopes and aspirations for her high school- and college-age daughters, and all students across the District, which include "striving to be their best selves in their personal and professional lives. And remember, if you always compare yourself to others, you will never find out whom you truly are. Instead, spend your energy discovering all your gifts—for they are many—and then build on your strengths, and fine-tune any areas you need to improve. Honor whom you were created to be and be the best you."
Bonnie Humpherys is a lifestyle creator, life coach, speaker, business leader and model. Her inspiring life journey draws from the "precious wisdom" of her Caribbean cultural roots and her overcoming of the struggles she faced as a teenager caring for her ailing parents and her siblings. Those experiences gave her life a purpose to "leave everything better than I found it". She earned two master's degrees and served in leadership roles at nonprofits, including a youth crisis intervention organization. In 2021, at age 27, Ms. Humpherys became Chief of Staff to Brandon Marshall, former NFL wide receiver and now CEO of House of Athlete, a lifestyle and wellness brand dedicated to improving athletes' mental and physical fitness.

Ms. Humpherys said that her experiences as an 18-year-old caregiver for her parents—and then losing them both—helped her realize she was much stronger than she thought. That self-awareness informed her approach to both academic and work life, ultimately leading to her current role at a brand that champions the importance of mental health. She urged our residents and students to continually work on building their self-esteem, offering such tips as: "Be with people who treat you well; say helpful things to yourself and avoid being too self-critical; set goals and work hard to achieve them; and make a difference in others' lives by being there for them when you need you most."