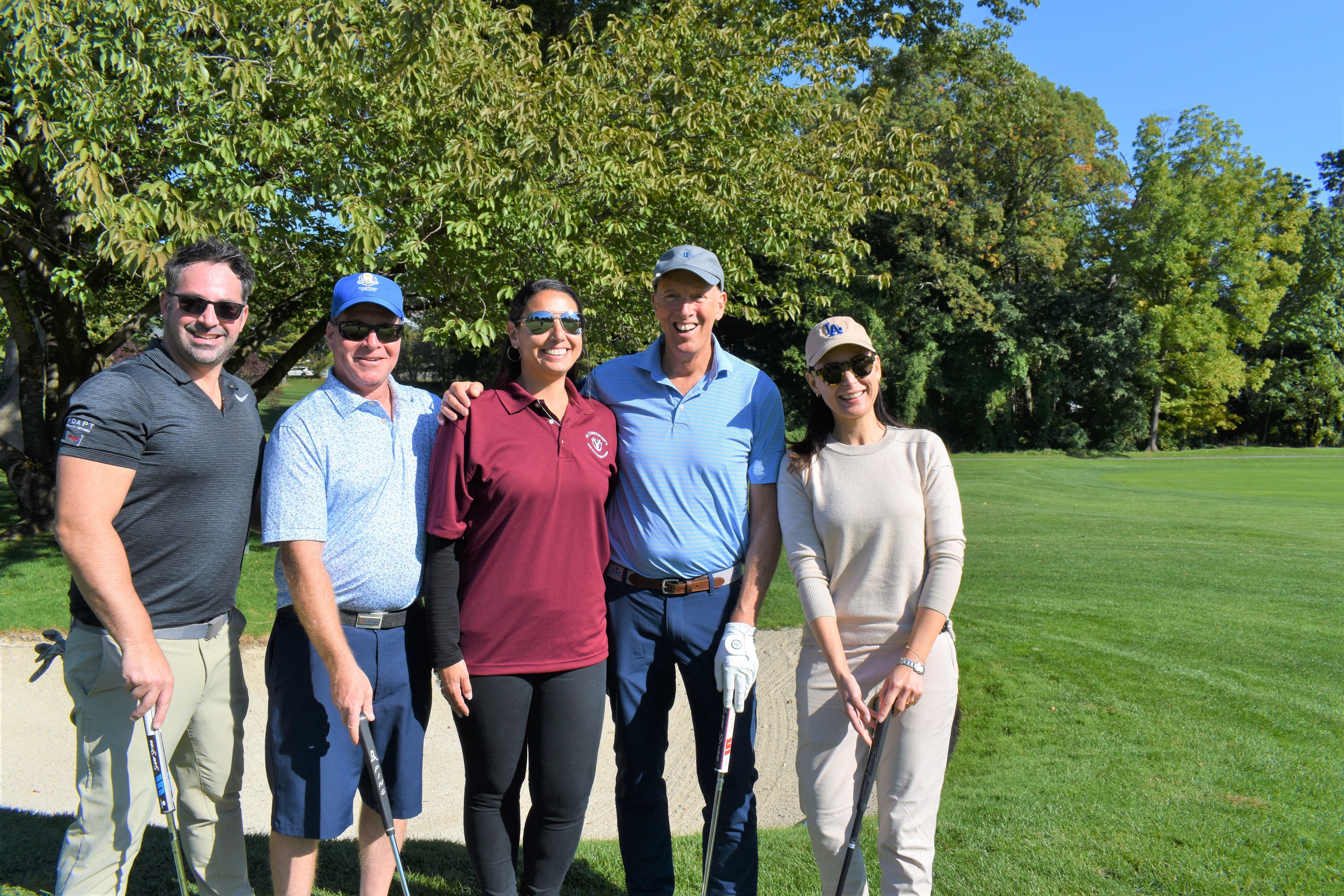 VIEW OUR EVENT PHOTO GALLERY HERE!
The setting was magical, the weather perfect and participants were happy and engaged during St. Christopher's 2022 Golf & Pickleball Classic at Leewood Golf Club in Eastchester, NY. The October 22, 2022 event featured 18 great holes of golf and a cocktail reception emceed by Board Member Larry Weiss, who as usual, made it fun, funny and memorable. It also marked the first time we have featured pickleball at our annual classic, which was a hit and for which we are grateful to Joe Ruback, John Garvin (Founder of Sky Pickleball) and Leewood Tennis Pro, Nigel Brown for making it happen.  
During the reception, in her remarks, St. Christopher's CEO, Dr. Sarah Ruback captured the significance of this specific time in our Agency's history:
"2021 year marked a milestone for St. Christopher's in that it was our 140 year in service to children and youth with special needs. Yet it is this year and next that have become two of the most significant years in our evolution as a human services agency—during which we are: introducing a vital, new program at our New Windsor Campus; expanding services to higher-needs, often-nonverbal children with autism at our Jennie Clarkson Campus; and that's only the beginning.

"Through it all, our founder, Etta Wheeler's purpose, passion and vision remain our North Star—to help children and youth ignite their inner power to: discover their best selves; reach their full potential; and live happy, healthy and meaningful lives—no different than what we want for our own children. So on behalf of our St. Christopher's team, please know that your participation as a sponsor, donor, golfer, pickleball player and reception guest will truly help change the life trajectory of children with special needs."
Dr. Ruback highlighted the participation in today's event of: members of the New Windsor and Dobbs Ferry Police Departments; Greenburgh-North Castle School District Superintendent, Dr. Carolyn McGuffog and four students; Board Members Larry Carbone—our Board Chair—Dr. Frank Belloni, Jeff Maron and Mr. Weiss; and St. Chris staff volunteers, especially Joan Massa, Maria Riccobono, Raven Mainor, Megan Hubertus and Jackie DiDomenico.  
Dr. Ruback also expressed her deepest gratitude to our sponsors, including:
Champion Sponsor:

 Alan Wilensky & USI Insurance Services. "Alan and his team have long been our valued insurance brokers and consultants—and for that we are grateful."

Signature Sponsor:

 Ed Lorch & American Mobile Dental, now Solvere Health, "a vital health partner to

our residents."

Visionary Sponsors:

Larry Weiss & Atlantic, Tomorrow's Office; Joe Randazzo & ProfTech Workplace Solutions; Jarrett Wolfe & Smart Choice Communications—our first pickleball sponsor; and Board Member, Mark Leonard.
Hero & Leader Sponsors: David Wurf & Equitable; Bill Imbesi & Toshiba; Jack Wilk & Wilk Auslander; and Board Member, Dr. Frank & Maggie Belloni.
Partner Sponsors: Pam Kelly-Day & Day-Seckler LLP; and Hernando Capuzano & H&E Cleaning. 
Stayed tuned for future fundraising events, but meanwhile, please consider making a tax-deductible donation today at our DONATE page. Thank you for you caring.