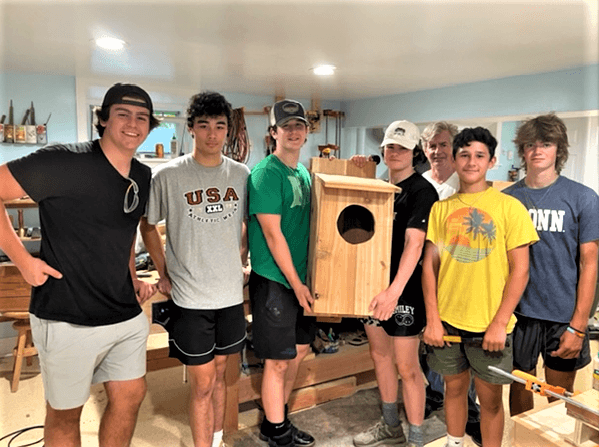 St. Christopher's Jennie Clarkson Campus, situated on 35 secluded acres in North Castle, New York, is the hub of our human-animal-nature activities, and home to our animal-assisted therapy program. Dubbed "Jennie's Farm," it's where our residential population of youth with developmental disabilities—including cognitive limitations, mental health challenges and/or autism spectrum issues—happily interact with and care for our Seeds of Hope Healing Garden and herds of donkeys, goats and chickens. These interactions create a beneficial and dynamic relationship between our youth, nature and animals that positively influences their physical, social and emotional health and well-being.
Still, a few items—while not missing, were in shorter supply than usual—specifically butterflies, birds and beyond. Why? Because there is more to them than their natural beauty. Birds, bats, bees, butterflies, beetles and other small mammals have an important job to do as major pollinators and in fact, the plants they pollinate are responsible for bringing us one out of every three bites of food we eat! They also sustain our ecosystems and produce our natural resources by helping plants reproduce.
And this is where Gabriel Camillieri enters the story...
Gabriel—a 17-year-old member of Croton-on-Hudson-based, Scout BSA Troop 28 was searching for an Eagle Scout Service Project (Eagle Project) when he learned about Jennie's Farm. To become an Eagle Scout—the highest rank of the Scouts BSA (ages 11-17)—you must earn more than 20 merit badges in skills and hobbies, hold leadership positions within the troop, and conduct community service projects—all before your 18th birthday. The Eagle Project is the culmination of the Scout's leadership training. It requires them to lead a team as Project Manager in the creation and execution of a significant initiative to benefit the community.
Upon learning how nature and animals benefit our youth, Gabriel chose to build an extensive array of bird and butterfly houses to attract more of both to Jennie's Farm. He and his friends also did extensive planting of marigold flowers to attract greater numbers of bees, beetles and other insects to the Healing Garden.
But he didn't do it alone. His parents provided guidance, as did St. Christopher's AnnMarie Sasso and Maggie Belloni. In particular, Maggie furnished plans and direction for the creation of houses for such wildlife as owls, kestrels and squirrels. Also lending a hand was Gabriel's brother, Luca, and a team of friends, including AnnMarie's son, James Sasso, who built the raised beds for planting marigolds. And to help financially fuel the project, Gabriel created a GoFundMe page which exceeded his goal of raising $1,000 for supplies. At this writing, all the marigolds have been planted and the majority of wildlife houses mounted.  
St. Christopher's thanks Gabriel Camillieri and his team for their hard work that really paid off for our residents—and we look forward to marking his achievement of Scouting's highest rank.