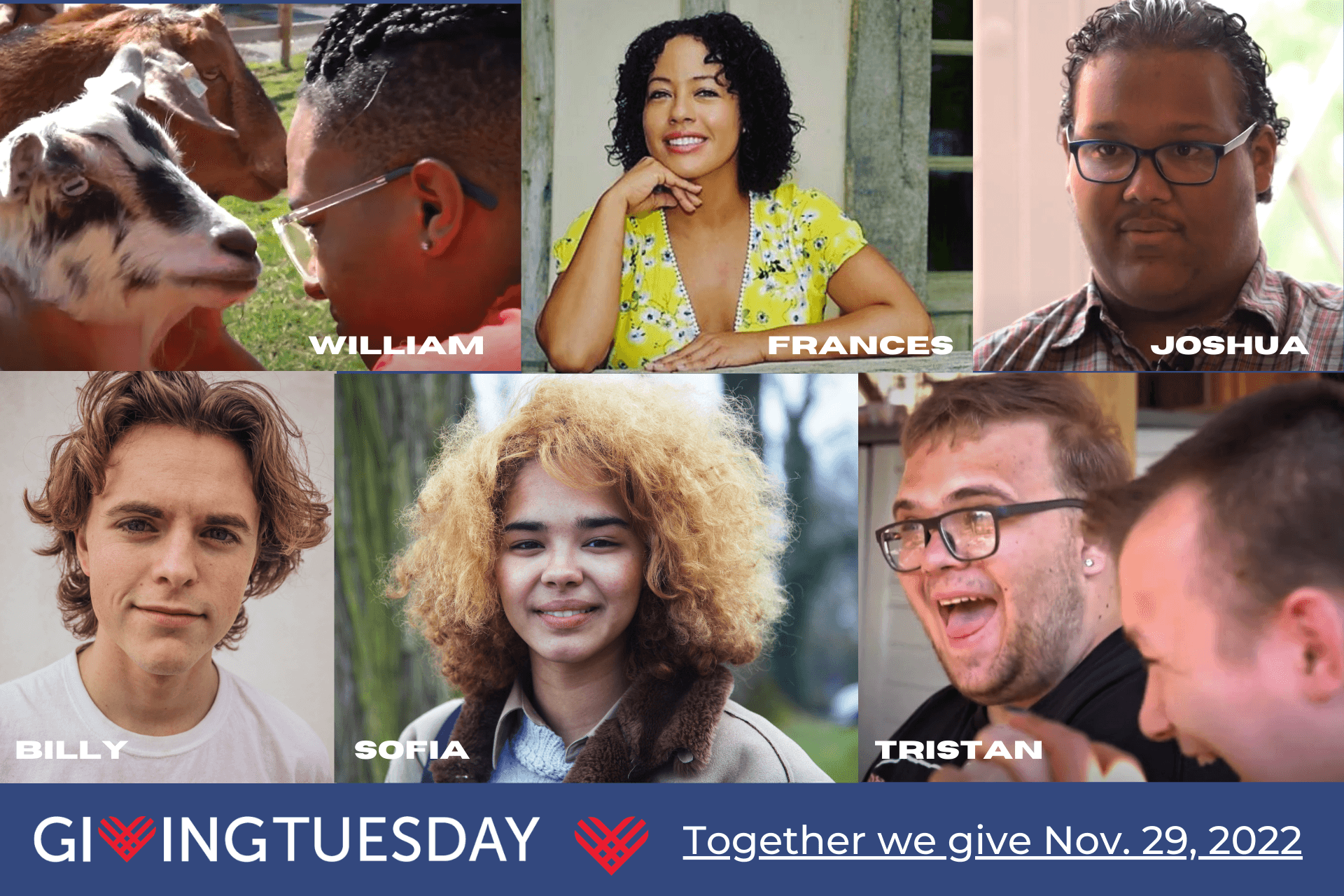 Giving Tuesday is global generosity movement unleashing the power of people and organizations to transform their communities and the world. It is celebrated on the Tuesday after Thanksgiving and the traditional start of the holiday shopping season: Black Friday and Cyber Monday—so this year it's November 29. Your generous support of St. Christopher's Giving Tuesday Campaign will make a difference in the lives of the children and youth with special needs we serve.
HOW?
By helping fund innovative programs that help them reach their potential and build futures of possibility.
Experience the journeys of William, Frances, Joshua, Billy, Sofia and Tristan—six St. Chris alumni who rediscovered their best selves. Then please make a secure, tax-deductible donation via this link today.
THERE ARE TWO VERSIONS OF ME: WILLIAM BEFORE & WILLIAM AFTER
William's Mom spent a lot of time worrying if her son would end up in jail. Then she turned to St. Chris and from his arrival to graduation, "everything kept going up and up!" He credits his daily interaction with our farm animals—part of our animal-assisted therapy program—with helping him control his anger and rediscover his caring side. William now attends community college, has a full-time job, and is well on his way to creating "a happy and successful life."
I AM HERE TODAY BECAUSE OF MY PARENTS' LOVE & ST. CHRISTOPHER'S
Today, Frances Gonzalez is a noted vegan wine expert, entrepreneur and founder of Vegan Wines.com. But 30+ years ago, at age 12, out of desperation her mother had her placed at St. Chris. Frances is convinced her four years with us helped save her life and launch her trajectory towards entrepreneurship. "The staff believed in me more than I believed in myself. They let me take chances, but were always there to support me. And that's why I've been bold in my life and career."
I HIT ALL THE RIGHT NOTES IN MUSIC, BUT NOW I'M STARTING TO IN LIFE, TOO
Before Joshua came to St. Christopher's, he loved playing the cello. But he didn't love the way his life was panning out. He felt hopeless and certain he was destined for failure in whatever he tried. But with the help of his counselors and hard work on his part, Joshua developed a positive, can-do attitude, and learned to accept himself and others. He became a role model on campus and interned as a home health aide. Joshua just began his freshman year at a highly-accredited, four-year college.
I LOVE MY LIFE NOW AND CAN'T WAIT FOR WHAT'S NEXT
At 15, Billy struggled with low self-esteem, illiteracy and learning disabilities—all leading to truancy. But three years after arriving at St. Christopher's, he matured and no longer became hostile with others with whom he disagreed. In fact, he became a role model for fellow residents and his gold-level, behavior status enabled him to work at an off-campus job. Billy, an honors student, graduated this year with a Regents diploma. He just began pursuing his associate's degree in business administration and is already exploring various career paths.
YOU CAN ALWAYS FIND THE SUN WITHIN YOU IF YOU ONLY SEARCH
Upon arriving at St. Chris, Sofia continued her pattern of being quiet, withdrawn, depressed and isolated. But soon she began mingling with her peers as she embraced our healing garden, cosmetology program, and an on-campus job. Finally, she had found and accepted her true self. And when she graduated high school, she began an internship helping children with special needs "because I want to give them the same support I had so they begin realizing they're special and deserve to be happy like everyone else."
ST. CHRIS' STAFF HELPED ME GET BACK TO THE WORLD OUTSIDE CAMPUS
Engaging with the donkeys, goats and chickens at our farm helped Tristan better control his anger, learn to deal with different personality types, and find his life purpose of ensuring the health and well-being of animals. A multiple, first-prize winner at 4H competitions, he was also active in the creation and operation of our Seeds of Hope Healing Garden. Last year, he transitioned to a group home and aims to pursue a veterinary technician degree. Ultimately, he wants to return to St. Chris to pick up where he left off in caring for his beloved animals.
Please give to St. Christopher's Giving Tuesday Campaign via this link today.
Thank you for caring.